Part Time
Supplement your income on the weekends

Make some extra cash in retirement

Fit around an unconventional work schedule (such as a teacher, firefighter, or offshore worker)
Even if you only plan to run your Dustless Blasting machine for 5 hours a week, the cash adds up significantly. That's because our contractors make, on average, $300 per hour of blasting.
Full Time
Escape your nine-to-five
Start working for yourself
Stop making someone else rich
If you can run your machine for 10, 20, or even 40 hours a week, you'll see why so many of our contractors are happy to quit their jobs in favor of working for themselves. There is so much work out there, you can concentrate in one area such as:
Residential work
Commercial work
Large contract jobs
So, how much can I make?
How many hours would you like to blast per week?
Approximate Yearly Revenue*
* Based on a nationwide average of $300 per hour of blasting.
Scaling up
If you start to get more business than you can handle, scaling up is simply a matter of buying another machine, teaching someone how to use it, and sending them off to do the jobs you can't do. Based on blasting for under 20 hours a week, your business could plan to deliver sales of about:
$300,000

in the 1st year with 1 mobile system
$600,000

in the 2nd year with 2 mobile systems
$900,000

in the 3rd year with 3 mobile systems
$1.2 million

in the 4th year with 4 mobile systems
Some of our contractors have done just this. So if you want to take control of your financial future, this might be the opportunity you're looking for.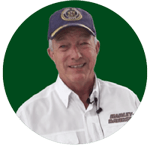 "My first job is going to pay for my machine. How can you beat that? Everything I saw in the video – it's better. I'm more than happy."
– Chuck Sapen, Aspen Green Blasting
Job Examples
$994 in 3.5 hours
This contractor removed paint and rust from a boat bottom, making it look like new.
---
$2,127 in 4 hours
The Dustless Blaster avoided damage on this delicate historical bridge.
---
$254 in 1 hour
In just an hour, this contractor blasted 4 rims for a local powder coating shop.
---
Curious about the details? We're happy to provide a guide full of tips and tricks on how to price jobs. Just click below for the free download.